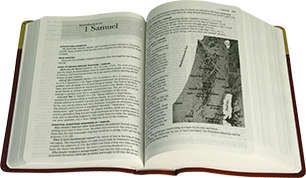 Special Features:
Study notes compiled from 60 years of the best-selling Standard Lesson Commentary®. Contributors include ministers, Bible scholars, and other experts in Bible exposition and Christian education
Enhanced Bible book introductions featuring: "what to review before you teach," "questions this book answers," and "teaching through"
What Do You Think? questions for discussion and reflection
Pronunciation guide to help teachers correctly say difficult-to-pronounce Bible words and names
Easy-to-read 10-point font
Commentary notes set alongside Bible text
Cross-references
In-text maps
Comprehensive time line
Concordance
Daily Bible Reading Plan
The Standard Lesson Teacher's Study Bible will expand, inspire, and strengthen your growth in the Scriptures.